They do call the Summer hols the "silly season". Well it looks like with Parliament in recess a particularly daft coalition policy has slipped through – angering LibDems and even causing UKIP leader Nigel Farage to brand the initiative "nasty". It's a mobile hoarding supposedly driving around the London Boroughs of Barking and Dagenham, Barnet, Brent, Ealing, Redbridge among others (whose councils had no say in the matter) urging illegal immigrants to "go home" and warning them that they will be arrested anyway whether they heed this Home Office advice or not. This great expose from Zoe Williams in the Guardian discovers that after all the hot air there are only 2 of them – for 6 sizeable boroughs.
This picture taken from Twitter looks like it's the van driving northwards up South Ealing Road: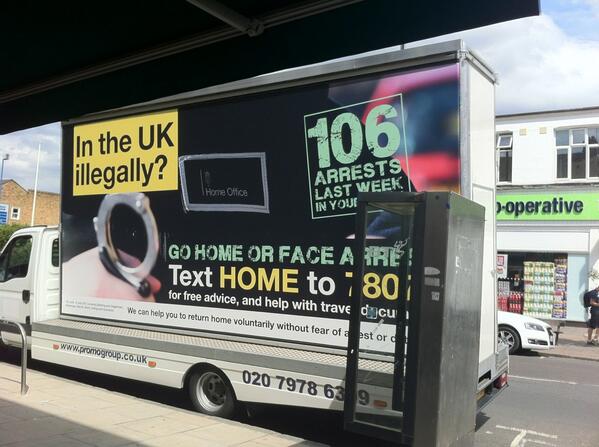 Obviously this is aimed bringing UKIP-sympathising voters back to the Tory fold rather than targeted at illegal immigrants (who probably can't read English if you believe Channel 4's latest reality show). It aims to create a climate of fear and hatred against all ethnic minorities and is the antithesis of the 2012 Olympic opening ceremony as repeated again on tv last night which was all about celebrating the diversity of modern Britishness, from its Windrush commemoration right down to Doreen Lawrence as chief Olympic flag-bearer. This latest "ridiculous stunt" (as the Daily Mail calls it) invites electors to round on immigrants in a scapegoating exercise rather than directing their ire at failed austerity policies and irresponsible bankers
Oh well, looks like it's easy enough to push on its side! Also as this Twitter dialogue shows it's also easy enough to expose it's daftness by confusing the officials manning the "hotline".