You are currently browsing the category archive for the 'Uncategorized' category.
Just realised the theatre review I've done for this weekend's Tribune won't leave readers long to see the play so here it is now: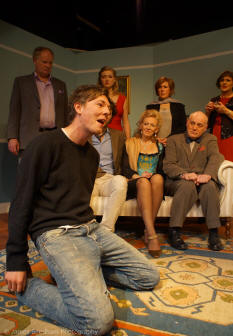 The Supper Party
Capers at parties have been rich fodder for dramatists – Harold Pinter's early work included "the Birthday Party" and who can forget the cloying superficial suburban niceities masking deeper problems in Abigail's Party from Mike Leigh?
In this brand new production from Alison Evans it is a bunch of luvvies we encounter at close range. A playwrite and his author wife throw a soiree where guests including an ex lover of his and boorish male actor pal grace their table as well as new faces in the form of a young couple that the hosts have taken under their respective wings.
The first half probes the conundrum of cultural value: is a gossip column worthless? Should life reflect art and vice versa? In the second half the competitive arched asides of the guests are knocked for six with the arrival of the fiery lost son of the piece and then… well, without wishing to signal too much of a spoiler alert, sparks really fly.
This gripping, convincingly acted play in the intimate setting of the Tabard, will literally have you on the edge of your seat at times as well as in laughter at others. It makes you think too, raising important questions about what is referred to as "the stifling colour supplement life" where behind the veneer of perfection much more is always at play.
Go see for yourself. It sure beats Eastenders anyway.
The Supper Party is at the Tabard Theatre, London W4. Book at www.tabardweb.co.uk
Found myself at the Battle of Ideas Institute of Ideas conference over the weekend. I have argued before that party political conferences seem increasingly out of step with modern times – a lock in for a big chunk of the week of preaching to the converted with set piece stagey bits and the main point of interest being new ideas generated at fringe meetings away from the cameras and the social/ networking type aspect.  Those of us still with actual jobs to do can't get away for their entire duration anyway.
The Institute of Ideas managed however to command an impressive turnout – they reckon some 2,000 over the 2 days – of people presumably attending voluntarily on a wet weekend. Despite their self style radical humanist/ libertarian bent there were some lefties there on the Saturday (possibly squishing in the AM before attending the march?) I bumped into ex Tribune editor Mark Seddon who was speaking on the Arab spring and heard David Lammy Tottenham MP on last year's riots as well as sessions on social media, Europe, the music industry and racism in football. Phew!
With intense back-to-back sessions and  no lunch break programmed networking was potentially limited, a little like party conferences although due to their corporate nature you can usually snaffle a vol-au-vent or two over a fringe meeting thanks to their sponsors. So a slightly exhausting experience even if it was all sedentary but a good one nonetheless with lots of food for thought in any case.
NB Two future dates for people who like these things/ are not too conferenced out in which I'll be speaking myself: this Saturday at Goldsmiths College, University of London am doing on keynote at a day conference on popular music and on the 31st am speaking at a symposium on suburbia at the CPRE. Both are free as far as I know so sign up if you fancy it.
If you turn to page 10 of today's Independent  on Sunday there's a small picture of me with my answer to the question: how is Ed Miliband doing? and what should he doing more of/ less of? The online version is
here
. Although it's understandable that it was cut due to space limitations in the print media and our soundbite age, the full quote I supplied them with goes like this:
Miliband is proving the doubters wrong. It's Cameron who's behind in the polls and facing a threat to his leadership. Ed is the unflashy tortoise in the race for No 10 but he's on track to win as the government keeps stumbling on successive policy disasters.
Manchester has special significance for Ed Miliband, it's where he became leader. Part of the reason he won the leadership is that in years leading up to 2010 he dazzled members with unscripted speeches at conferences of internal Labour groupings like Progress and Compass demonstrating his likeability, bold ideas, passion, thoughtfulness wit, humour and principles. Thousands of party members saw this but the public haven't yet. This week presents a great opportunity for him to present himself to the electorate at large who are still getting to know him. I'd advise him to be himself more and not be stifled with the demands of the job ie thinking he has to be the stereotypical stuffy suit that people might equate with "being Prime Ministerial".
Good luck to Ed and all delegates this week. The fact that recent polls have given Labour significant leads eg 10% in today's Observer and 15% in some surveys is cause for cheer. As
Political Betting also points out
 Ed M leads Cameron  by 2% on trustworthiness & 21% on being more in touch with ordinary people according to YouGov.
Great turnout today at the rally on Ealing Common where two marches (from Southall and Acton) converged with the message "Save Our Hospitals" ringing out loud and clear. A sizeable chunk of those in the crowd were not your usual protesting types but the proposed NHS reorganisation (or rather cost-cutting exercise) has struck a chord with many for whom this was their first ever demo – from pensioners to babies in buggies.
There was a shared platform befitting this common cause with Ealing Central Tory Angie Bray speaking alongside Ealing Labour MPs Steve Pound and Virendra Sharma and Hammersmith's Andy Slaughter – a rarity as Ealing Lib Dem leader Gary Malcolm points out. Also in attendance were Seema Malhotra MP for Feltham and Heston and John McDonnell MP for Hayes and Harlington- even though there are no closures in their seats. Councillors from all three parties too spoke out against and came from as far as as Kensington and Chelsea, underlining how disasterous the  proposals to decimate Accident and Emergency services in west London will be, with knock-on effects across all of these boroughs. If this crackpot scheme goes ahead ushering in the effective destruction of Ealing and Charing Cross hospitals, the nearest A and E for people in Ealing Borough (which includes places as far away from central London as Northolt) will be St Marys in Paddington. The hassle and expense involved in getting there will inevitably have potentially fatal consequnces. As health professionals (including newly elected Labour GLA member Onkar Sahota) too pointed out NHS staffers are firmly against too.
At times I had flashbacks to previous demos I've attended: was almost expecting "Maggie, Maggie, Maggie, out out out" to be chorused. Saw plenty of SWP banners, they always had a reputation for bandwagoneering with any cause going seized on for a recruitment drive but it felt a bit odd to see the Conservatives  (who are not locally in coalition with Ealing Lib Dems) employing Socialist Worker type tactics, even having Tory t-shirts printed for the occasion (modelled in the photo by Cllr Phil Taylor). Isn't it their government forcing through these short sighted cuts? Shouldn't they be applying pressure on their leadership, or crossing the floor if they are the two are so out of synch that they cannot be reconciled?
Finally as with is usual at demos in gauging the exact number who were, there are widly varying estimates: the BBC says 1000 The Ealing Gazette doubles this to 2k. Heve seen figures of 15-20,00 claimed at an upper limit and 8,000 from the organisers.
Today 13th Sept is… cue fanfare… Roald Dahl day! This event is now in its sixth year and was lanched as part of National Book week to commemorate the birth of this literary legend in 1916.
Pictured below is the recreation of Dahl's writing hut which I was lucky enough to visit at the Roald Dahl Museum and Story centre in Great Missenden, Bucks at the weekend (not to be confused with the Roald Dahl Gallery of the Buckinghamshire County Museum in Aylesbury). The hut's contents are now behind glass for all to see and its exterior can also be seen a couple of times a year, including the weekend of Roald Dahl Day, when his family let visitors into the grounds of Gypsy Cottage his old home to raise funds for his charitable foundation and children's charity.
Have had this up at the Guardian about the man himself and shed-gate. Might be a bit of a revelation to some but he was a writer of adult fiction too which veers into some distinctly adult themes – some were dramatised by ITV as Tales of the Unexpected in the late 70s/ 80s. There is also a degree of overlap like the adult  short story "Champion of the World" later reworked into "Danny The Champion of the World". His kids' books are peerless though. As with recent obituaries of Nina Bawden or the work of Jacqueline Wilson he did not shy away from familial dysfunction – lonely only kids, orphaned children, overbearing parents, evil aunts etc.
The pictures below are taken in Dahl's backyard (which has a pretty neat maze, stone carved inscriptions from his books and a gypsy caravan as well as his hut) and in the museum's "boy" gallery. His widow Felicity Dahl and grandson Ned were on hand to answer questions on Sunday and a village fete type atmosphere ensued. The museum too has lots for the young Dahl fan including storytelling in Miss Honey's Classroom and a cafe selling Dahl inspired fare – snozzcumber sandwich anyone? Didn't spot Miss Trunchball anywhere thankfuly.
It's often been remarked that we need more bank holidays in the UK. After August there's nothing until Christmas. Surely Roald Dahl Day to honour this man who was so many things – war hero, spy, author, grandfather, dad etc would be an ideal candidate?
Three episodes in and the new BBC sitcom Citizen Khan is sort of improving. Yesterday night's episode had a throwaway line at the start where Mr Khan got annoyed at being phoned up by a call centre operative from Mumbai – a deft 21st century touch that there are too few of. Whereas "The Kumars at 42″ and "Bend It Like Beckham" recognised the suburbanisation of Asians this grim oop north sub-Hovis ad seems stuck in a 70s groove harking back to the decade that time forgot in interior decor and sophistication of humour. Once again there were loads of tweets flooding in starkly divided between lols and cringes. My longer take on the programme went up over the weekend at Huffington Post and can be read here.
Here is Ali from "Mind Your Language" by way of a memory jog:
In answer to the comments:
Some of the posters have the right idea but others are comically outraged at my original thoughts – disgusted on Tonbridge Wells lives online. One looks like they have just discovered inverted commas so determined to use them every other word, a bit like my eight year old.  Funniest one was someone who said the best thing about it was that it reminded them to renew their EDL membership. Cannot find it now, possibly removed by moderator.
Another declared "As professor of sociology the write [sic] should know better than to dismiss a milestone in the depiction of Islam in the mainstream media". Thanks for elevating but am several paygrades below this rank I'm afraid.
Further reading: Huq, R. (1996) on all this and "the burden of representation" in the classic text "Disorienting Rhythms" available for download here.
You will have seen the footage of George Osborne being booed while giving out medals at the Paralympic Games but here are some sides of theParalympic games that may have escaped your gaze (taken by my own hand the two days I was lucky enough to be there):
This slideshow requires JavaScript.
These games have really come of age. As one much retweeted tweet put it the day they kicked off: Athens pre-sold 1,000 Paralympic Games tickets. Beijing 5,000. London has pre-sold 2.3m tickets. Will miss them but all good things must come to an end and the legacy willl live on.
NB The same day Osborne was booed Gordon Brown was cheered. In a week when Dallas returned wouldn't it be great if you stepped out of the shower and the whole ConDem experiment had been but a dream?
Finally managed to score tickets for goal-ball yesterday AM. It's a sort of sitting down football played by blindfolded teams of 3 a side. The session was a 9am game and possibly given the early start (it was recommended to get there an hour before, due to airport-style security) the venue was empty in chunks at the start of the three matches but by the last one, where GB was playing, it had filled up almost to capacity with just the bloc of seats for athletes and their families not all occupied. Although GB were beaten 7-1 by Turkey, it was an electrifying game. Found the atmosphere inside the complex at large most noteworthy – akin to that at a pop festival.
I have to confess the near-monopoly position enjoyed by the mega-sponsor McDonalds meant that my party and I ended up lunching in their biggest branch on earth which was not just big but fit to bursting, with queues snaking around the block. Quite an experience in Taylorism with multiple lanes for order taking, paying and even a slow queue among the for people wanting to decide at a more leisuredly pace rather than knowing what they wanted when they walked in.
Also lots of pop music throught the sport we watched. At every goal "Song 2″ by Blur was played (the "wooh-hoo" bit) and in between games "London Calling" by the Clash inspired a clap-along. Given the union jacks being waveed it was a bit like a punked up Last Night of the Proms. Also  Labyrnith's "Earthquake", "Pass out" by Tinie Tempah and Fatboy Slim's "Right Here Right Now" soundtracked goal-ball. My mum, who was with us, found it a racket but then as a kid I found the music she played unlistenable din myself.
For more on goal-ball see here. Note the omni-prescense of the sponsors names including the villains of the piece ATOS – boo hiss.
I'm not a big one for televised sport but even I got caught up in Olympic Fever; I enjoyed the main 2012 games as a phenomenon and must confess to feeling a sense of anti-climax when it all ended. However after a 2 week hiatus the Paralympics kicks off. Although one could complain that the two should have been more closely linked to avoid the paras looking like an afterthought/ add on/ tacked-onto-the-main event thing, the omens are good: the Royal Mail will  issue stamps for medal-winners which there should be a few of, building on the euphoria of theearlier London Games.
Was present to see the arrival of the flame (not a torch as such) at the postmodern cum pagan Northala Fields, Northolt, Middlesex on Friday evening. It seemed that were more non-able bodied punters present than I have seen at recent outdoor gatherings including comparable events of the Mayor of London 2012 festival, or prehaps I was just conscious of this issue than usual.
Here's some photographic evidence to give you an idea of the goings on:
(Click on any image to enlarge, Pics courtesy of the long lense of Tim Kelly).
Roll on the games now
Our Prime minister, who you might remember denounced targets for PE hours taught in schools as they could be fulfilled by "Indian dancing or whatever" , would not have liked this weekend's 10th annual London Mela as the art form  that so offended him was centre-stage.
It was also on display for the world to see at the London 2012 Olympics closing ceremony. My Olympics in retrospect article is here for Progress Hopefuly London can pull it off again for the Paralympics in a few days time. On the politics of it all Ray Kelly comments that Manchester's 2002 Commonwealth Games in a bid won by the city's Labour administration paved the way for London's success:
"When Margaret Thatcher abolished the GLC to get rid of Ken Livingstone, she left London with no single representative to front a bid. As a consequence, there was no bid for over a decade. It was only when he was elected mayor (as an independent to Labour's shame) that London was back in the frame…  [The eventual games boasted] spectacular facilities and entertaining opening and closing ceremonies. There were, of course, the usual Tory cock-ups: the deserted centre of London, the empty seats despite the demand for tickets but a good time was had by all."
Can't say fairer than that. Or as the article itself concludes the Olympics are one case where if the the anti-Indian dancing David Cameron and watermelon-smiling Boris Johnson do their usual 'inherited from Labour' mantra they are dead right.