You are currently browsing the category archive for the 'Uncategorized' category.
Since posting about the Home Office "Go Home or Face Arrest" vans:
1. I have had a piece on the subject in the Observer, Britain's oldest Sunday newspaper on a page with Tony Blair trailed on the cover of the newspaper.
2. Ellen Wilkinson School have had their best ever A-level results and asked me as a local figure to present certificates and speak to girls about my own educational trajectory at their annual prize-giving which I look forward to.
3. I've put my name forward for the Labour party's internal candidate selection for the Conservative-held seat of Ealing, Central and Acton, as a local member with some national profile. See my separate site about this by clicking here. I've been warned that the next 6 and a bit weeks will be hell so wish me luck (!)
They do call the Summer hols the "silly season". Well it looks like with Parliament in recess a particularly daft coalition policy has slipped through – angering LibDems and even causing UKIP leader Nigel Farage to brand the initiative "nasty". It's a mobile hoarding supposedly driving around the London Boroughs of Barking and Dagenham, Barnet, Brent, Ealing, Redbridge among others (whose councils had no say in the matter) urging illegal immigrants to "go home" and warning them that they will be arrested anyway whether they heed this Home Office advice or not. This great expose from Zoe Williams in the Guardian discovers that after all the hot air there are only 2 of them – for 6 sizeable boroughs.
This picture taken from Twitter looks like it's the van driving northwards up South Ealing Road: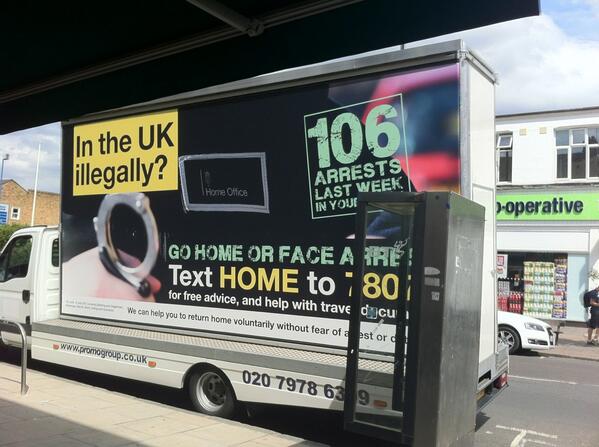 Obviously this is aimed bringing UKIP-sympathising voters back to the Tory fold rather than targeted at illegal immigrants (who probably can't read English if you believe Channel 4′s latest reality show). It aims to create a climate of fear and hatred against all ethnic minorities and is the antithesis of the 2012 Olympic opening ceremony as repeated again on tv last night which was all about celebrating the diversity of modern Britishness, from its Windrush commemoration right down to Doreen Lawrence as chief Olympic flag-bearer. This latest "ridiculous stunt" (as the Daily Mail calls it) invites electors to round on immigrants in a scapegoating exercise rather than directing their ire at failed austerity policies and irresponsible bankers
Oh well, looks like it's easy enough to push on its side! Also as this Twitter dialogue shows it's also easy enough to expose it's daftness by confusing the officials manning the "hotline".

I think this flyer should be self explanatory. Rather than the House of Commons where my last book was launched you are warmly invited to a genuinely suburban setting tomorrow: St Mary's University College. Hope to see you there.
Is the garden gnome any longer a valid symbol of the suburban way of life?
I happened to be in the audience on Thursday as Ed Miliband made a major speech touching on welfare reform and the economy. He took a Q+A session afterwards. Most of those picked were the assembled media: Nick Robinson of the BBC and his counterparts from Sky, ITN and the print press were all chosen but I had my hand up too and asked if Ed could extend his laudable pronouncements on housebuilding and clamping down on private sector landlords to regeneration, particularly in the neglected suburbs – not quite middle England, not the hangout of the metropolitan elite and not urban enough for urban regeneration yet suffering 21st century problems; decaying infastructure, hollowed out high streets, inadequate transport links etc.
He answered that growth was the key to answering all of the above and Labour had a plan for tackling high street blight in its 2010 manifesto. I think in some respect he's answered it too with his "squeezed middle" narrative. Anyway you're wondering "what've gnomes got to do with it?" to paraphrase Tina Turner. Well this is how my intervention was written up (behind a paywall) in yesterday's Times – right at the end of this sketch:
Amusing enough report but looks like a sensible point has been reduced by the commentariat to the usual scenario of anti suburban prejudice painting suburb-dwellers as gnome-obsessives. This sort of outmoded stereotype is precisely what I'm trying to smash in my work on suburbs. There is clearly a vocal pro-gnome minority who complained to IKEA recently but life in the burbs these days is a high pressured environment where there are not enough hours in the day, not peaceable gnome-land. I can't remember the last time I saw one and I live and work in suburbia. If anything the Tories are the party of the garden ornaments. In fact their last properly elected PM was a bloke who's dad manufactured them for a living.
Right, will all that out of the way I'm off to do some leafleting for Labour in Ealing today in Walpole ward. I confidently predict that my gnome count of creatures spotted will be zero but I can let you know if I'm wrong. Here is the meantime is an Image from Disney's Gnomio and Juliette (equally unrepresentative of the modern suburban dwelling but maybe we can blame the creators for being American and not knowing better):

This picture is of a scholarly conference on at the end of last year organised by the subcultures network, more of whom here
except the event probed the age-ing process and subcultures as the picture suggests with punk, goth, mod and northern soul all represented.
Charlie Watts today in the Guardian G2 has uttered the words "we're boring farts now" on the plight of the Rolling Stones who sold out their Hyde Park gig tickets in a record 5 minutes. It was not beneath him though to come back to Ealing last year when a plaque was unveiled at the basement club where the band first played some 50 years earlier, demonstrating the longstanding link between suburbs and subcultures.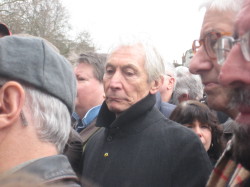 The evidence is all around us: the fascinating if slightly out-of-body experience I had of being at the ICA's lovingly curated Smithsfest last weekend then the excitement over new Bowie product and the V and A exhibition of his artefacts. As I stated in my Tribune column today and on the Channel 4 website earlier this week, Pop Will Eat Itself? I think it already has. 
In case you're not a subscriber, here it is:p16-17 of Network from the British Sociological Association BSARupa article pdfwith a big spread on my new book.
Have also been in the Ealing Gazette, Surrey Comet (Kingston local rag) and the River (award-winning Kingston Univ paper). Anyway sounds like I'm showing off so I'll stop there.
Hilary Clinton who stated on her last day of office in January that gender inequality remains the unfinished business of the twentieth century. In this country the gains of earlier generations arguably peaked with the New Labour government's equalities bill continuing in the governments' recognition of the state's role in childcare and extending maternity and paternity pay. Yet things have been on the slide ever since; it's the capital's women who are hardest hit by the coalition's cuts: like removing principle of universality in child benefit, something even Thatcher who was a working mum herself would never have dared tamper with. Feminism has an image problem, granted but you don't have to be a bra-burning humourless dungarees wearer to accept that we are not going forward but back. The installation of Theresa May as Home Secretary (who arguably has had to put up with more flack than male counterparts would) cannot detract from this fact. Women's unemployment recently peaked at a 20 year high. "Having it all" is still a must us for all, circumvented by glass ceilings everywhere. So as a mum and member of the workforce I say despite the distance we've travelled (women didn't even have the vote on equal terms until 1828) there is still a way to go. Let's put women in politics centre-stage and policy considerations rather than being some sort of window dressing. On yes and happy international women's day to sisters everywhere.
PS Here's the cover of a book not out yet but forthcoming. The final image to be used is not this one and publication date uncertain but will update you on both in due course…
You might remember the post here of September 2012 describing how thousands of local residents marched and took part in a rally on Ealing Common organised by the SOH Ealing campaign. Well since then October's public debate at EalingTown Hall drew in 350+ people hostile to NHS NW London's proposals in October 2012. Then in November a petition signed by 80 000 residents from Ealing and neighbouring borough Hammersmith and Fulham opposing the closure of A&E units at Ealing, Central Middlesex, Charing Cross and Hammersmith hospitals was handed in to 10 Downing Street. Just this month over 400 people attended a candlelit vigil outside Ealing Hospital.   
Well tomorrow the final decision takes place. Worringly it already seems to be a foregone conclusion. Under NHS NW London's Shaping A Healthier Future (SAHF) consultation and its preferred option A, four of the nine hospitals in NW London (Ealing, Central Middlesex, Charing Cross and Hammersmith) will close their A&E units, retaining only their Urgent Care Centres, which will deal with minor injuries. This will be catastrophic for a number of reasons:
Historically, when A&E units have closed at hospitals the associated support departments have also closed (e.g. maternity, obstetrics, paediatrics, general surgery) because it is considered that they can no longer function safely. NHS NWL's proposed model of care in SAHF, based on the establishment of new standalone Urgent Care Centres and GP networks, is very largely untested and unproven. Once any decision is announced those hospitals facing any loss of services will face huge damage to morale. Existing staff will inevitably look for work elsewhere and it will become increasingly difficult for them to fill any vacancies. This will lead to a self-fulfilling service decline. It makes a mockery of the shamefaced lie of the airbrushed Cameron in his bid to be elected that he would protect the NHS – most people remember the parodies more than the original anyway.
Admittedly there's no point in opposing reform for the sake of opposing. If there's a case for neccessary change in the re-structuring of healthcare however it needs to be based on tested models and clinical evidence showing improved health outcomes. Dr Onkar Sahota, the record-breaking victorious Labour assembly member for Ealing and Hillingdon (who took a seat that in 2012 was stubbornly Tory even in the boom years of Blairism) spoke passionately on this subject at the London Labour party conference on Saturday – and as a local GP he knows what he's talking about. This however is a shoddy ill-thought through exercise.
We'll wait to hear tomorrow's outcome but it looks like this is a meeting contrived to approve a decision already made/ done deal. There is a big demo planned for April 27th – more details to follow. I wish it could be celebration of saving these vital units but fear the worst. Sign up to SOHEaling's Twitter account here. Their website is here.  
I used to end that phrase with "and some bad ones too" last time I had a book out, but this time I'll add "and some tax-dodging websites too".
If you were unable to get tickets to tonight's launch it's actually over-capacity! Yes 90+ RSVPs for a room that seats 50 so it may be a birriva squeeze. Nevermind (as Nirvana put it) book still available and for the digested read here's my filmed interview up on the Guardian website here.
In-out, shake-it-all-about…
So Cameron has finally delivered the much awaited Euro-speech, having had a stay of execution last week. Here is the Tribune column I did for the first issue of the new year, when we were first anticipating the thing – not a lot has changed really.
It was in the Monty Python film Life of Brian that the now well-worn phrase "what have the Romans ever done for us?" was famously uttered. As columns swirl around the commentariat and blogosphere from the right slamming our membership of the EU and urging an "in-out" referendum the rhetorical question posed by the John Cleese character could almost be adapted in into the singular with the word "Europe" as the cause of bafflement having had at best rather mysterious benefits to many.
Indeed the daily relevance of Europe and the job of the MEP might not seem obvious to many average voters yet there is an impressive list of achievements we can rack up. The EU goes much further than a purely economic remit.
Important social gains include maternity and paternity pay, consumer protection and working time directives. Even if thanks to Gordon Brown's five economic tests did we never sign up to the Euro as our currency, UK EU membership has afforded us unfettered access to the world's largest single market of 500 million. The work continues. The Commission has recently proposed package of measures to promote youth employment known as the Youth Guarentee.
We are best off at the heart of Europe rather than carping from the sidelines. We cannot take a pick-and-mix approach in the Cameroonian way. It's sad to see any business go to the wall but he should remember that Woolworths business model failed.
Cameron is deluded to think the UK has the right to isolate itself with its unilateral insistence on its own EU changes. His recent macho tough-taking statements suggesting that he cherry-pick are more a showing off exercise to appease his Eurosceptics thereby putting the Tory party before British long-term interest. If he does allow them their much craved for referendum given a choice between a campaign mounted by the "fruitcakes, loonies and closet racists" of UKIP (his words) in one corner and the sensible mainstream in the other the result could counter-intuitively see the British public opting to remain in the EU.
Indeed the Tories are deeply divided spanning those like Ken Clarke (who I remember encountering at a Britain in Europe dinner organised by the now defunct pro-Euro pressure group in the run-up to the 2004 European election) to right-wing ideologues of the 2010 MP intake. In a Guardian column Peter Mandelson has written that the way the Conservatives are tearing themselves Labour party in the 1980s. Conservative splits in the 1990s over the very same issue denied them power for thst entire decade, something unprecedented for the modern Tories who hitherto had been an election winning machine.
Notwithstanding the fact many of the EU's detractors seem to derive their living from it: like Nigel Farrage MEP or Tory rightwinger Daniel Hanan MEP, last weekend's Daily Mail poll projects a big win for Labour the European Elections predicting it's on course to more than double its current total to scoop 31 seats. Of course we have over a year to go so Labour should not lose its nerve. Surely the most sensible way to put the brakes on any centralising EU tendencies is institutional reform, as argued for by Ed Miliband, rather than jeopardising influence and repelling investment with this simplistic posturing.
When Cleese asked the Life of Brian question in that political game-changing year 1979 his audience reminded him of Roman improvements leading to his own admission "apart from the sanitation, the medicine, education, wine, public order, irrigation, roads, a fresh water system, and public health…" All progressives (Lib Dems too if they have the backbone) need to not lose sight of making the positive case for Europe between now and 2014.
We were told that when it happened it'd be worth the wait, apparently like tantric sex. More like an anti-climax I'd say…