You are currently browsing the category archive for the 'Uncategorized' category.
This picture is of a scholarly conference on at the end of last year organised by the subcultures network, more of whom here
except the event probed the age-ing process and subcultures as the picture suggests with punk, goth, mod and northern soul all represented.
Charlie Watts today in the Guardian G2 has uttered the words "we're boring farts now" on the plight of the Rolling Stones who sold out their Hyde Park gig tickets in a record 5 minutes. It was not beneath him though to come back to Ealing last year when a plaque was unveiled at the basement club where the band first played some 50 years earlier, demonstrating the longstanding link between suburbs and subcultures.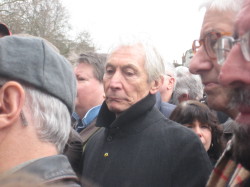 The evidence is all around us: the fascinating if slightly out-of-body experience I had of being at the ICA's lovingly curated Smithsfest last weekend then the excitement over new Bowie product and the V and A exhibition of his artefacts. As I stated in my Tribune column today and on the Channel 4 website earlier this week, Pop Will Eat Itself? I think it already has. 
In case you're not a subscriber, here it is:p16-17 of Network from the British Sociological Association BSARupa article pdfwith a big spread on my new book.
Have also been in the Ealing Gazette, Surrey Comet (Kingston local rag) and the River (award-winning Kingston Univ paper). Anyway sounds like I'm showing off so I'll stop there.
Hilary Clinton who stated on her last day of office in January that gender inequality remains the unfinished business of the twentieth century. In this country the gains of earlier generations arguably peaked with the New Labour government's equalities bill continuing in the governments' recognition of the state's role in childcare and extending maternity and paternity pay. Yet things have been on the slide ever since; it's the capital's women who are hardest hit by the coalition's cuts: like removing principle of universality in child benefit, something even Thatcher who was a working mum herself would never have dared tamper with. Feminism has an image problem, granted but you don't have to be a bra-burning humourless dungarees wearer to accept that we are not going forward but back. The installation of Theresa May as Home Secretary (who arguably has had to put up with more flack than male counterparts would) cannot detract from this fact. Women's unemployment recently peaked at a 20 year high. "Having it all" is still a must us for all, circumvented by glass ceilings everywhere. So as a mum and member of the workforce I say despite the distance we've travelled (women didn't even have the vote on equal terms until 1828) there is still a way to go. Let's put women in politics centre-stage and policy considerations rather than being some sort of window dressing. On yes and happy international women's day to sisters everywhere.
PS Here's the cover of a book not out yet but forthcoming. The final image to be used is not this one and publication date uncertain but will update you on both in due course…
You might remember the post here of September 2012 describing how thousands of local residents marched and took part in a rally on Ealing Common organised by the SOH Ealing campaign. Well since then October's public debate at EalingTown Hall drew in 350+ people hostile to NHS NW London's proposals in October 2012. Then in November a petition signed by 80 000 residents from Ealing and neighbouring borough Hammersmith and Fulham opposing the closure of A&E units at Ealing, Central Middlesex, Charing Cross and Hammersmith hospitals was handed in to 10 Downing Street. Just this month over 400 people attended a candlelit vigil outside Ealing Hospital.   
Well tomorrow the final decision takes place. Worringly it already seems to be a foregone conclusion. Under NHS NW London's Shaping A Healthier Future (SAHF) consultation and its preferred option A, four of the nine hospitals in NW London (Ealing, Central Middlesex, Charing Cross and Hammersmith) will close their A&E units, retaining only their Urgent Care Centres, which will deal with minor injuries. This will be catastrophic for a number of reasons:
Historically, when A&E units have closed at hospitals the associated support departments have also closed (e.g. maternity, obstetrics, paediatrics, general surgery) because it is considered that they can no longer function safely. NHS NWL's proposed model of care in SAHF, based on the establishment of new standalone Urgent Care Centres and GP networks, is very largely untested and unproven. Once any decision is announced those hospitals facing any loss of services will face huge damage to morale. Existing staff will inevitably look for work elsewhere and it will become increasingly difficult for them to fill any vacancies. This will lead to a self-fulfilling service decline. It makes a mockery of the shamefaced lie of the airbrushed Cameron in his bid to be elected that he would protect the NHS – most people remember the parodies more than the original anyway.
Admittedly there's no point in opposing reform for the sake of opposing. If there's a case for neccessary change in the re-structuring of healthcare however it needs to be based on tested models and clinical evidence showing improved health outcomes. Dr Onkar Sahota, the record-breaking victorious Labour assembly member for Ealing and Hillingdon (who took a seat that in 2012 was stubbornly Tory even in the boom years of Blairism) spoke passionately on this subject at the London Labour party conference on Saturday – and as a local GP he knows what he's talking about. This however is a shoddy ill-thought through exercise.
We'll wait to hear tomorrow's outcome but it looks like this is a meeting contrived to approve a decision already made/ done deal. There is a big demo planned for April 27th – more details to follow. I wish it could be celebration of saving these vital units but fear the worst. Sign up to SOHEaling's Twitter account here. Their website is here.  
I used to end that phrase with "and some bad ones too" last time I had a book out, but this time I'll add "and some tax-dodging websites too".
If you were unable to get tickets to tonight's launch it's actually over-capacity! Yes 90+ RSVPs for a room that seats 50 so it may be a birriva squeeze. Nevermind (as Nirvana put it) book still available and for the digested read here's my filmed interview up on the Guardian website here.
In-out, shake-it-all-about…
So Cameron has finally delivered the much awaited Euro-speech, having had a stay of execution last week. Here is the Tribune column I did for the first issue of the new year, when we were first anticipating the thing – not a lot has changed really.
It was in the Monty Python film Life of Brian that the now well-worn phrase "what have the Romans ever done for us?" was famously uttered. As columns swirl around the commentariat and blogosphere from the right slamming our membership of the EU and urging an "in-out" referendum the rhetorical question posed by the John Cleese character could almost be adapted in into the singular with the word "Europe" as the cause of bafflement having had at best rather mysterious benefits to many.
Indeed the daily relevance of Europe and the job of the MEP might not seem obvious to many average voters yet there is an impressive list of achievements we can rack up. The EU goes much further than a purely economic remit.
Important social gains include maternity and paternity pay, consumer protection and working time directives. Even if thanks to Gordon Brown's five economic tests did we never sign up to the Euro as our currency, UK EU membership has afforded us unfettered access to the world's largest single market of 500 million. The work continues. The Commission has recently proposed package of measures to promote youth employment known as the Youth Guarentee.
We are best off at the heart of Europe rather than carping from the sidelines. We cannot take a pick-and-mix approach in the Cameroonian way. It's sad to see any business go to the wall but he should remember that Woolworths business model failed.
Cameron is deluded to think the UK has the right to isolate itself with its unilateral insistence on its own EU changes. His recent macho tough-taking statements suggesting that he cherry-pick are more a showing off exercise to appease his Eurosceptics thereby putting the Tory party before British long-term interest. If he does allow them their much craved for referendum given a choice between a campaign mounted by the "fruitcakes, loonies and closet racists" of UKIP (his words) in one corner and the sensible mainstream in the other the result could counter-intuitively see the British public opting to remain in the EU.
Indeed the Tories are deeply divided spanning those like Ken Clarke (who I remember encountering at a Britain in Europe dinner organised by the now defunct pro-Euro pressure group in the run-up to the 2004 European election) to right-wing ideologues of the 2010 MP intake. In a Guardian column Peter Mandelson has written that the way the Conservatives are tearing themselves Labour party in the 1980s. Conservative splits in the 1990s over the very same issue denied them power for thst entire decade, something unprecedented for the modern Tories who hitherto had been an election winning machine.
Notwithstanding the fact many of the EU's detractors seem to derive their living from it: like Nigel Farrage MEP or Tory rightwinger Daniel Hanan MEP, last weekend's Daily Mail poll projects a big win for Labour the European Elections predicting it's on course to more than double its current total to scoop 31 seats. Of course we have over a year to go so Labour should not lose its nerve. Surely the most sensible way to put the brakes on any centralising EU tendencies is institutional reform, as argued for by Ed Miliband, rather than jeopardising influence and repelling investment with this simplistic posturing.
When Cleese asked the Life of Brian question in that political game-changing year 1979 his audience reminded him of Roman improvements leading to his own admission "apart from the sanitation, the medicine, education, wine, public order, irrigation, roads, a fresh water system, and public health…" All progressives (Lib Dems too if they have the backbone) need to not lose sight of making the positive case for Europe between now and 2014.
We were told that when it happened it'd be worth the wait, apparently like tantric sex. More like an anti-climax I'd say…
Sad to hear of Blockbusters going into administration, in the same week as Jessops and HMV. I'll refrain from any Bob Holness jokes at this point.
Pictured is the West Ealing branch of the video rental store in August 2011 in the aftermath of the riots. Let's hope that employees of these three chains can find alternative work if no buyers are found.
The death of the high street by the way is a chapter in my new suburbia book; more details here. It's being launched on 4th Feb at the House of Commons no less.
Haven't done any blogposts for a while as it's been the festive season holiday, in which time I seem to have seen lots films without even having budged from from my sofa or having any additional channels/packages on the set other than what it came with. Here are the ten I've hoovered up end-to-end in order of preference, all things I've seen for 1st time in last 2 weeks. Those that were deja vu are not included.
1. Rebecca – stunning wartime b/w Hitchcock melodrama depicting the forces of hell unleashed (hat-tip Alistair Darling) when a mysterious millionaire widower remarries a young 'un (actress had 21st birthday on set) who finds herself with much more than she bargained for
2. Parenthood – can't remember if I saw this first time round, if so it made zero impression. Director Ron Howard is known for his prudish drama but this one had lots of good stuff in there for me I could relate to now I am a a parent even though it stars non parent Steve Martin. I loved the Keanu Reeves character – 1st 80s outing for his Bill+Ted chracter??
3. Attack the Block – sassy contemporary true Brit zombie film set on a sarf London council estate
4. The Lady Vanishes – more Hitchcockian monochromatic stuff, this time a rollicking spy thriller, far superior to the glossy BBC drama serialisation on at the same time with Downton's Lady Mary
5. Percy Jackson and the Lightning Thief – influenced by my 8 year old boy. Amreicanifyed Harry Potterish thing where a slacker – similar to Keanu of (2) – from high school takes on Greek mythical creatures
6. Astro-Boy – a CGI pixar type thing. Never got as famous as Shrek or Toy Story but robot-boy plot centred on decent fundamental story about how difference is good with obligatory double-entres for parents as pioneered by the Simpsons
7. The Spiderwicke Chroincles – more monsters and weird creatures in a old house. A wee bit like Coraline but starring the English boy actor who was in Tim Burton's Charlie and the Chocolate factory who plays a yank (rather like Estes and Brody of Homeland or Hugh Laurie as House)
8. Twilight – another variation of US high school flick where the kids seemingly never do any work and pupils drive to lessons. Yet unlike Rebel Without a Cause the main man (pale and interesting) is a vampire played by a Brit – see (7)
9. The Birds – My least favourite Hitckcock of the 3 and a half I saw, bit creepy even if 60s special effects v. primitive by out standards. Like (1) based on a Daphne DuMaurier tale, Set in the US and in colour it appeared to show a girl from the big bad city coming to a smalltown signalling an inexplicable attack of feathered friends – the original "angry birds"
10. Bruno – pretty dire. The suburban wigga with attitude Ali G from Staines was funny (specially before his identity was widely known and he interviewed the late Rhodes Boyson MP, Tony Benn etc). However this excruciating as it was soooo unpolitically correct and trying too hard to shock.
Happy new year everyone anyone. If you have kids the holidays aren't even over yet so enjoy what remains…
If you have a copy of the Daily Telegraph handy have a look at p15 and you'll see this (click on it to enlarge):
Basically Tory councillor Colm Costello has been caught criticising the council from a fake ID on the Ealing Today forum. He even replies as himself at one point while signed in with the fake name. Beating the Torygraph to it was the Ealing Gazette.
Clearly the coalition does not survive at local level as even the Lib Dems cannot hide their amusement at this faux pas as seen in their leader's tweet.
Surely there is a lot of it about – fake royal baby accounts at Twitter and from the  2010 election @bigotedwoman but like the popular blogger Gay Girl in Damascus who was unveiled as a 35 year old postgrad in Scotland the hapless councillor with wacky twitterhandle @jackclaudereadi broke the 11th commandment – he got caught.
Bill Clinton, 42nd President of the US was in London town yesterday to speak on Progressive Governance at a Policy Network event. Among points he made were that:
- He always wished he had a Parliamentary system to pass what bills he wanted like Tony given the obstinacy of the legislature he faced
-  Low interest rates these days can feel like the healthy people at a sick person's party if you have a mortgage
- Reagan made everyone automatically think government = bloodsucking machine, thereby popularising low taxes
- Global warming and energy efficiency are challenges of our times despite the scepticism of many in the US – "Go stick a thermometer in it, it's not opinion"
- Obama's brilliance at voter ID (called "micro-level targeting") should be equaled in governments matching people to employment opportunities and "sequencing" policy initiatives
All this was delivered with a mastery of statistical data and sprinkling of accessible anecdotes eg describing how he's been for his first cateract operation. He said that the category who feel most neglected now are what we'd call "the white working class" and that rather than being about egos "politics is a team sport".  In conclusion he said that 3rd way politics (which Lord Mandelson in an introduction declared had reached a high watermark in the 90s) was needed now more than ever.
The session was preceded by a "young leader's panel" including Kingston University graduate Hadia Tajik, Norweigan Minister of Culture and Najat Vallaud-Belkacem French women's rights minister – two Socialist Muslim women in government, the latter a mum-of-two to boot. This is not something yet experienced in the UK (Sayida Warsi doesn't count). All in all a fascinating night all round – boosted by the fact I was sat next to/ swopped pleasantries with third way creator Lord Anthony Giddens for the duration (if you've ever done sociology you'll know who I mean).